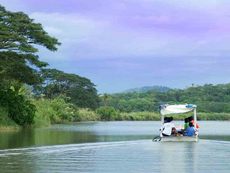 How to Get There

Businessmen, investors, and travelers from Manila and other provinces in the Northern and Southern part of the country can reach Mamburao and vice-versa through Roll-On Roll-Off (RO-RO) vessels (i.e. Montenegro or Baleno Shipping Lines) plying from Batangas Port to Abra de Ilog Port. Then from Abra de Ilog Port, it takes thirty (30) to forty-five (45) minute travel via bus, jeepney, or air-conditioned van to get to the Mamburao town proper.
Travelers can also opt to take a door-to-door van -- it will pick you up in your home and drop you in your destination, just like what the name implies. Another option is to take a Dimple Bus which has a terminal in Cubao. This bus is traveling from Manila to San Jose via Mamburao.
For faster travel, people may take a chartered plane from the Domestic Airport in Manila to Mamburao Airport . The travel time takes at least forty (40) minutes.


Daily Ferry Boat Trips as of March 2, 2009

Batangas to Abra
Montenegro SL- 2am, 4am, 930am, 1pm, 5pm, 10pm
Baleno SL – 4am, 11:30am, 3:30pm, 8pm

Abra to Batangas
MontenegroSL – 2am, 6am, 10am, 1pm, 5pm, 9pm
Baleno SL- 8am, 3pm, 6:30pm, 12mn

« Return to Culture and Tourism Menu